Bookstore Berth

Regent's Canal is an oasis of calm amidst the hustle and bustle of London's urban jungle. Meandering along its towpath accompanied by gliding swans, offers a tranquil pace with a different city perspective. Exploring this hidden world reveals a colourful array of narrowboats, a quirky alternative culture, and a treasure trove of books at 'Word on the Water - The London Bookbarge'. Jon Privett, is spritely literary skipper at its helm accompanied by rescue dog, Star as on-board mascot. This floating bookshop is permanently moored by Granary Square in London's King's Cross, an area filled with the cut and thrust of hi-tech giants, but where better to escape, than to bury your nose in a book by a cosy wood stove on a canal barge.
More than an idle curiosity, this is a lifestyle founded on Jon's passion for reading, 27 years of bookselling, and living on barges - "I was born in (Charlotte) Brontë country, in Yorkshire, and from the age of three I never stopped reading".
Jon's eclectic taste developed whilst studying American Literature at Brunel University, reading Kerouac, Angelou, Scott Fitzgerald, Faulkner, and Baldwin. The penchant for barges innocently began with a family canal boat holiday, but when homeless, Jon sold second-handbooks to subsist and lived on a sunken boat. 'Word on the Water' begins with a tale of friendship between Jon and fellow booklover, Paddy Screech, the bookstore idea took float when they saw a vintage barge for sale in 2010. Pooling their meagre resources and with plucky persistence discussed the venture with French owner, Stéphane Chaudat, who became their business partner. Word on the Water had her maiden voyage. "We believed and trusted one another, this is the foundation of our success and business, and we're still here" declares Jon.
The London Bookbarge sailed the waterways selling "the best books ever read, and would want to read" along the River Lee, Hertford Union Canal, and Regent's Canal from Broadway Market to Camden Market, scooping-up a loyal community of bibliophiles. Forced to move between moorings every fortnight, the 'book club' including famous authors Elizabeth Speller and Michael Bywater, supported the roving trader's campaign in 2014 with a successful 6,000 strong petition to the Canals and River Trust, which granted permanent mooring on Regent's Canal – "the support from fellow international book readers was touching, and our book sales have continually risen as a result."
Word on the Water holds a reputation for quality via word of mouth, "it's not so much reinvention, but a non-stop learning curve in which we gain knowledge from our customers and use our own experience tocarefully select book titles and genres that appeal to a diverse readership. It's a pleasure to see customers spontaneously choose our recommendations."
As London's only book barge, it's a tourist bestseller with international media interest from the New York Times to Australian television, Jon gratefully acknowledges that "the King's Cross regeneration development funding has been good for business, publicity and visitors. Acclaimed authors on-board have included Booker Prize Winner, Ben Okri, and British thriller writer, Christopher Fowler, even espionage novelist John le Carré expressed his support and bought a book!"
"We've entered a golden age of literary attention whereby reading printed books is the antidote to the chaos of digital media."
Word on the Water invites exhibiting artists, and poet slams & live musicians perform on-board during Spring & Summer. Up to 1,200 people at a time have attended a mix of jazz, folk and world music which has encouraged inclusivity with a wider audience, "cultivating engagement with reading books distinguishes human beings from plants and reconnects them with the environment, it makes people feel alive."
Word on the Water playlist' of 600 tracks on Spotify has been compiled for a pleasurable book reading experience, but digital books have not dampened the spirits of The London Bookbarge, "the Kindle trend is like electronic cigarettes, you still want a real one when you get home" says Jon, whilst puffing on a 'real' cigarette.

"It's positive competition, publishers are currently more committed to improving presentation, and print is well established. We've entered a golden age of literary attention whereby reading printed books is the antidote to the chaos of digital media" - a thrilling new chapter awaits this floating bookbarge.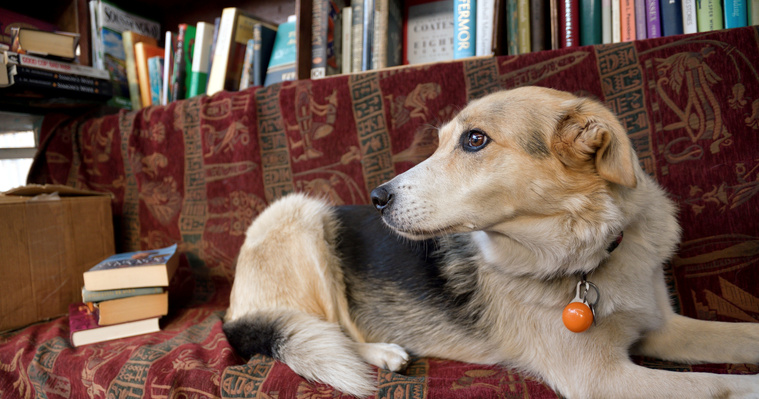 Instagram
@word_on-the-water
Spotify
Current Word on the Water playlist